CEIL 1450VA / 1160W Pure Sine Wave Inverter / Charger Steel Battery Trolley with 2 X DC31 100 A/h TRUE Deep Cycle Semi Sealed Maintenance Free Batteries
Ceil - (a.k.a. DYNEX) 1450 VA / 1160 Watt Plug and Play DSP Based Full Sine Wave Inverter/Charger with Batteries and Cabinet
DSV Based Pure Sine Wave Inverter
1.45kVA / 1450VA / 1160 Watt Pure Sine Wave Output
2 X 100 Ah Royal DC 31 TRUE Deep Cycle Semi Sealed Maintenance Free Lead Acid Batteries.
Inverter/Charger is free standing, or, can be placed on top of the battery cabinet
Two UK Standard Output Sockets
Includes 1 x UK to RSA Converter Janus Plug
Plug and Play Inverter/UPS
Wide input voltage range
24V dc Battery Charger and Circuit
Overload and short circuit protection
LCD display for comprehensive information
Fully automatic
Fan to release heat
Built 9-11A Selectable charger
Simple Clip Together Steel Battery Cabinet.
Includes Inter Battery Series Link Cable
Includes Set of Caster Wheels
*Product Specifications are subject to change without prior notice.
The Ceil By EXIDE (A.K.A. DYNEX in the Indian Domestic Market) 1450VA / 1160W Inverter/Charger Unit is a high quality Plug and Play Pure Sine Wave Inverter/Charger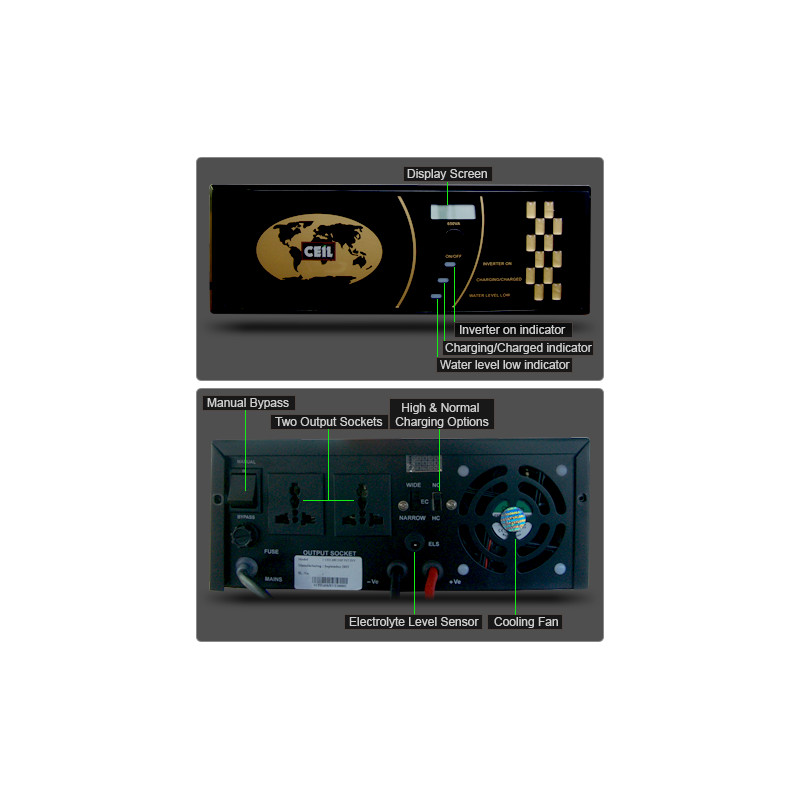 1.45 kVA (1450 VA) / 1.16kW (1160 W)
Overview:
The Ceil Inverter/charger converts DC power to AC power with amazing transfer efficiency.
The Ceil 1450VA Inverter/Charger is excellent for home use on appliances such as TVs, media centres, lamps or computers
The Ceil DYNEX 1450VA series of Inverter/Chargers feature:
No Humming
This superior technology product ensures that there is no humming sound when appliances are running on the battery power when the AC Grid supply is down.
Undisturbed TV Viewing
With the commonly available inverter systems (with modified sine wave output) there is often a distortion(or grains) in the TV picture. With CEIL Home UPS, the TV viewing is undisturbed.
Protects your Home Appliances
The reliable grid power like output ensures that the sophisticated equipment in your home is not damaged.
Higher Power Factor
The CEIL Pure Sine Wave Home UPS has a much higher power factor. This means at the same kVA rating it can handle much higher power.
Wider Input Voltage Range
The system has a wider input voltage range - which means it can handle the high levels of voltage fluctuations seen in rural / remote locations.
Other Important Features
The system has 3 charging modes which gives you options depending on the extent of power cuts faced and the availability of charging time. It also has an extra socket for emergency loads. The LCD display on the panel provides better user interface.
Click to View CIEL Plug & Play Inverter charger Manufacturer's Specification Sheet and Brochure
The Royal Delkor DC-31 Semi Sealed Lad Calcium TRUE Deep Cycle Battery (2 Supplied to be Connected in Series)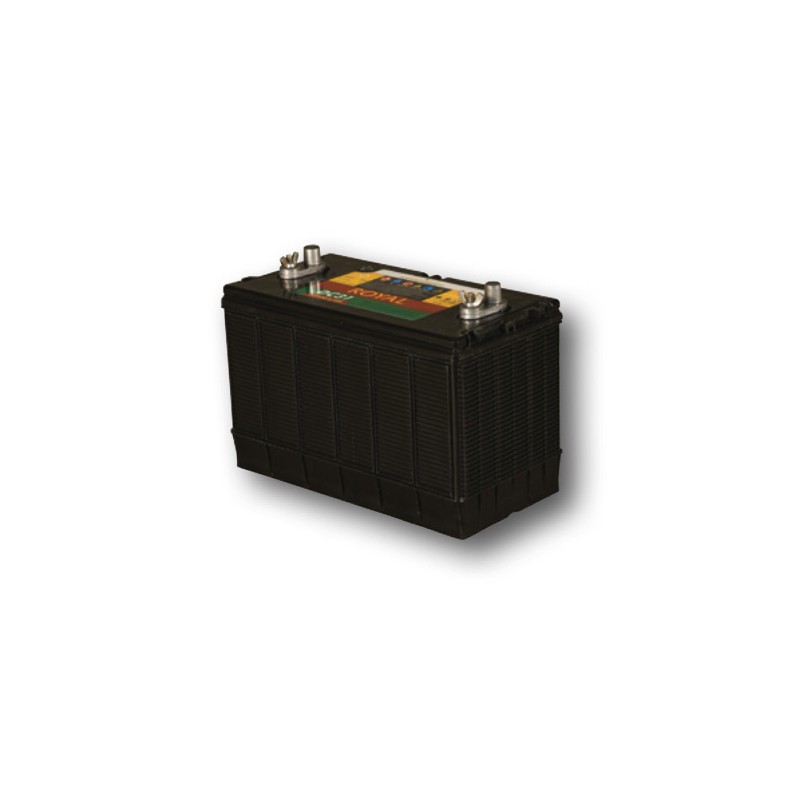 12 Volts
100 A/H 20 A-h Rate True Deep Cycle Battery
Sealed Maintenance Free
Maintenance free Semi Sealed dual purpose Lead Acid battery
Heavy Duty "Deep Cycle" Wrought lead-calcium grids
Low-Resistance envelope separators
High strength polypropylene case
Heat Sealed covers
Exclusive patented liquid gas separator
Built in Hygrometer
Dual Terminal (SAE Post & 8 mm Wing Nut)
Ruggedized Heavy Duty Rubber Case
High CCA Rating
Click to View DC31 Battery Specification Sheet
Black Battery Cabinet
On Swivel Casters
Pre-Built
Perfect for Plug and Play Inverter Application
Dimensions:
H (On Casters) 33.5 cm (Height with inverter: +- 50 cm)
W: 37.5 cm
L: 42.5 cm
PLEASE CONTACT US ON 011 888 0410 REGARDING:
DOUBLING THE RESERVE CAPACITY BY ADDING TWO ADDITIONAL 100 AH BATTERIES, A LARGER STEEL BATTERY CABINET AND THE BATTERY LINK CABLES REQUIRED.
OR
WE CAN ALSO OFFER SUPER CYCLE "SOLAR GEL" TYPE BATTERIES WHICH FEATURE SIGNIFICANT INCREASE IS BOTH DISCHARGE AND STORAGE LIFETIME EXPECTATION